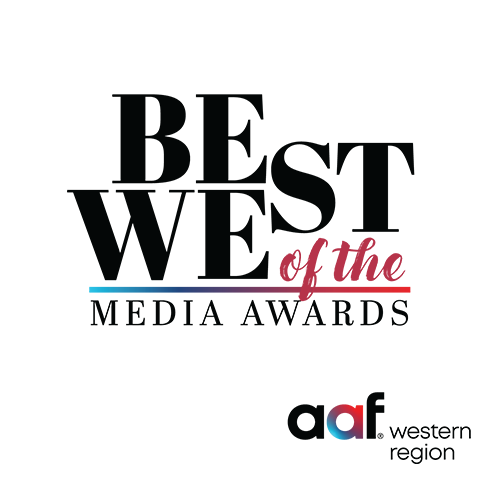 Honoring Service to the Advertising Industry and Our Community
Nominate Yourself, Your Company Or Anyone Worthy!!
Enter Here: Best of the West Media Awards
Community service and the benefits to those the media serve comprise the major qualifications for Best of the West Media Awards. Media and Advertising Outlets based in our area will compete against those from throughout the West! Sub-categories for many awards will ensure that outlets in our market will compete with those of similar sizes. Awards are presented to honor work and activities from October 1 of the previous year through September 30 of the current year.
Schedule:
Nominations Deadline: EXTENDED TO October 15, 2021 
Announcement of Finalists: November 1, 2021 Awards Presentation (online): November 18, 2021, Subject to Change
Entry Fees:
Company & Individual Entry: $45
Student Entry: $35
Enter Here: Best of the West Media Awards
Awards Boundaries:
The Award boundaries will mirror the American Advertising Federation Western Region boundaries which includes the states of Alaska, Arizona, California, Colorado, Hawaii, Idaho, Montana, Nevada, New Mexico, Oregon, Utah, Washington, Wyoming and the El Paso market area of Texas.
---
The American Advertising Federation (AAF) is organized into fifteen districts for effective communication, representation and operation of the intermediate level of the American Advertising Awards and the National Student Advertising Competition. District XI, the northwest, consists of the states of Alaska, Idaho, Montana, Oregon and Washington.
---
---